Survey Consulting Services
Our survey consulting services are available to all faculties, centres, service units, central support units, stakeholders and project groups authorised by the Rectorate that carry out surveys at the University of Vienna. On the one hand, it is the Unit for Quality Assurance's responsibility to collect and summarise comprehensive information about planned surveys, especially surveys regarding the administrative process at the University of Vienna. On the other hand, the Unit acts as a partner within the University and offers help by coordinating and conducting these surveys, as well as providing advice. Please get in touch with the Unit for Quality Assurance if you would like to carry out a survey!
The goal is to conduct most university surveys using the expertise and resources available within the University of Vienna. However, some tasks may be assigned to external service providers in cases where their expertise is needed to guarantee the quality of the process.
The Unit of Quality Assurance's survey consulting services pertain to all the different phases of a survey project and they can also be used for individual parts of the process. The following chart gives an overview of a survey project's main phases and briefly mentions the aspects that need to be clarified in different phases of the process. For more detailed information on this service please see the "Surveys Checklist" on the University's intranet (Tropicals A-Z --> Surveys).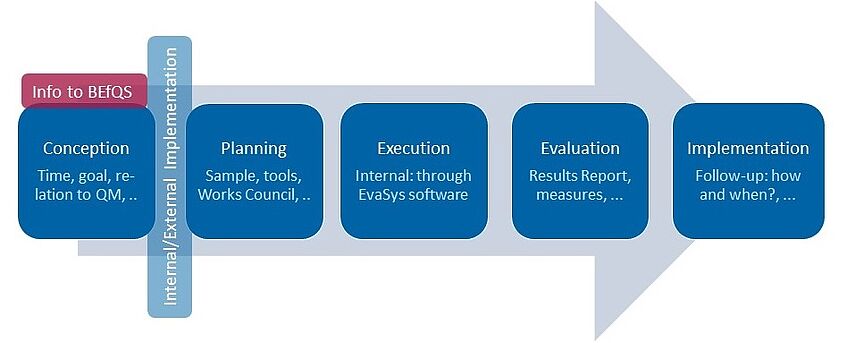 The Unit for Quality Assurance can look back on many long-standing survey collaborations at the University of Vienna. It can draw on a wealth of experience about the university system and its expertise in the field of social sciences to accompany and supervise new projects. To get an impression of the range of ongoing and one-off surveys carried out with the Unit for Quality Assurance in the past, please visit our webpage regarding analyses under the topic Surveys.
HR Mag. Dr. Lukas Mitterauer